Executive Management
Bradley W. Schroth
Principal and Managing Manager
Mr. Schroth serves as the Principal and Managing Manager of The PRES Companies, his own firm, for over 27 years. His career in real estate spans 41 years with a broad array of experience in brokerage services, tenant representation, development and management of build-to-suit ventures as well as assemblage of major land acquisition opportunities. He is well-versed in determining real estate objectives, as well as in negotiation, marketing and sales of small to large investments including the first office condominiums in Newport Beach.

Mr. Schroth successfully represented Ingram Micro (Fortune 75) in many national locations including a build-to-suit headquarters in Santa Ana, California and Buffalo, New York. He represented the Karcher family in a build-to-suit for CKE Restaurants (Carl's Jr.) headquarters in Anaheim, California; DJ Orthopedic headquarters in Vista, California, Foote Cone & Belding's West Coast Regional Headquarters in Irvine, California; and Kellogg's Company major distribution centers in crossroad cities across the US.

Since 1994, Mr. Schroth has led PRES Companies in successfully managing over $400 million in total real estate transactions on behalf of high-net-worth individuals and selected institutional investors, and overseen the purchase of 1.5 million square feet of office, industrial, retail and hospitality assets. Prior to the founding of PRES Companies, Mr. Schroth was a leading producer for 14 years in the Orange County office of Grubb & Ellis, ranked in the Top 20 producers regionally in his last 10 years, and was the top grossing broker across the company's 64 national offices in his last year before founding The PRES Companies.

Prior to Grubb & Ellis, Mr. Schroth worked for IBM Corporation in Cleveland, Ohio. As primary principal of PRES Companies, he has been a visible change maker in Orange County real estate having a base in Newport Beach and Irvine for decades. He and his wife were instrumental in forming the Newport Elementary School Endowment. Mr. Schroth is a charter member of Newport Beach Country Club, a resident of Lido Isle, married for 30 years with two adult children. Mr. Schroth received a B.A. Degree in Business Administration from Bowling Green State University.
Alan D. DiBartolomeo
Managing Director
Mr. DiBartolomeo serves as the Managing Director of The PRES Companies, working closely with Mr. Schroth for nearly five years. Mr. Dibartolomeo directs the PRES Companies' strategic plans, as well as overseeing its operations, asset management and personnel.

Mr. Dibartolomeo brings a wide spectrum of entrepreneurial experience and corporate knowledge to the Management Team. He has managed divisions in large and small companies over a period of 36 years, as well as founding and growing private real estate ventures. In 2003 Mr. Dibartolomeo founded A&D Investment Group to acquire and develop infill projects in high-density urban areas in Southern California. His experience includes a partnership with BlackRock Real Estate, to entitling and building a highly dense, mixed-use project in Glendale, sold in 2014 at a record-setting price in the market; entitling luxury apartments in Los Angeles and large, transit-oriented, mixed-use projects in the San Francisco area.

Prior to his own ventures he spent twenty years in corporate and privately-held real estate companies. He served as advisor to apartment developer Legacy Partners Residential/Irvine in the early 2000s, responsible for a seasoned team of professionals overseeing the simultaneous construction of four apartment communities totaling over 900 units. He served as a Vice President in the Southern California division of Spieker Properties during its unprecedented growth in the mid-1990s until its sale to Equity Office Properties. He was a partner with industrial developer Don Wilson Development of Torrance, California, from 1986 to 1992, where he pio neered incubator-style multi-tenant industrial. He began his real estate career with one of the most highly-regarded commercial developers in the country in the 1980s, Trammell Crow Company, in Irvine, having been trained in the "front-to-end" philosophy of the office/industrial development giant.

Mr. Dibartolomeo has been a guest lecturer at the USC Masters in Real Estate Development graduate program, the USC Ross Minority Program in Real Estate, and Urban Land Institute presentations. Mr. Dibartolomeo received a B.A. in Ecological Systems from the University of California at Los Angeles, and a Masters in Business Administration from Harvard University. He is married with three adult children, and lives in Orange County.
Christopher Adams
Chief Financial Officer
Mr. Adams serves as the Chief Financial Officer of PRES Companies, working closely with Mr. Schroth and Mr. Dibartolomeo. Mr. Adams directs the accounting, financing, tax, budgeting and forecasting for PRES Companies. He oversees the firm's corporate financial planning and all financial reporting to lenders, investors, and service providers.

Mr. Adams has over 15 years of experience in accounting and finance in commercial and residential real estate. Prior to PRES Companies, he was Vice President of Accounting and Finance for Doug Wetton Properties, a redevelopment and management company focused on multifamily and student housing. There he helped Doug Wetton Properties grow its portfolio over 50% and recapitalize over $100 million of its assets. Mr. Adams has also held senior accounting roles for large real estate development firms, Shea Properties, Lyon Living and Arnel Management.

Mr. Adams is a member of various real estate organizations including the Center of Real Estate at UCI Paul Merage School of Business. He earned two degrees in Business Administration as a dual major in Marketing and Management at Cal State Long Beach, as well as obtained an MBA with a focus in Real Estate Finance at the University of California, Irvine. He is married with one child and resides in South Orange County.
Richard Hughes
Executive Vice President – Capital Markets
Richard is a financial services industry veteran having spent most of his career in positions of executive leadership in Philadelphia, PA. His career includes 14 years with Rittenhouse Financial Services, Inc. where he served as President. Rittenhouse was acquired by Nuveen Investments, and he became President of the Separate Accounts Division for Nuveen. Richard served as President and leader of the Nuveen separately managed account business and grew it to over $50 billion under management. Additionally, he has served as Co-President of Portfolio Management Consultants (PMC). PMC is the investment consulting and asset management division of Envestnet Asset Management, Inc., the largest provider of wealth management technology, services and products to over 110,000 independent financial advisors and institutions with over $5.2 trillion in platform assets. Additionally, Richard founded Almanack Investment Partners, LLC. In the first year of his tenure as founder/owner/CEO, Almanack grew from $0 to over $425 million in AUM and AUA. He was a founding Governor of the Money Management Institute in Washington, D.C., and has been a Director on several boards, including Gain Capital and the Philadelphia Depository Trust Company, a subsidiary of the Philadelphia Stock Exchange. Over the years Rich has been frequently quoted in the press including The Wall Street Journal, Barron's and CNN Money in addition to appearances on television including The Fox Business Network and CNBC.

His career also includes military service as an officer and paratrooper with the U.S. Army's 82nd Airborne Division and subsequently the Pennsylvania Army National Guard where he served as the Commanding Officer of the oldest unit in continuous existence in the United States Armed Forces. He holds the FINRA Series 7, 24, 63 and 65 licenses. He also holds an instrument-rated private pilot license from the FAA. He resides in Newport Beach, CA, is married and has two adult children. He is a member of Sunnybrook Golf Club, The Merion Cricket Club, The Philadelphia Club and Newport Beach Country Club. In his free time, he enjoys golf and staying as active as possible. He received his B.S. in Business Administration with special attainments in commerce from Washington & Lee University.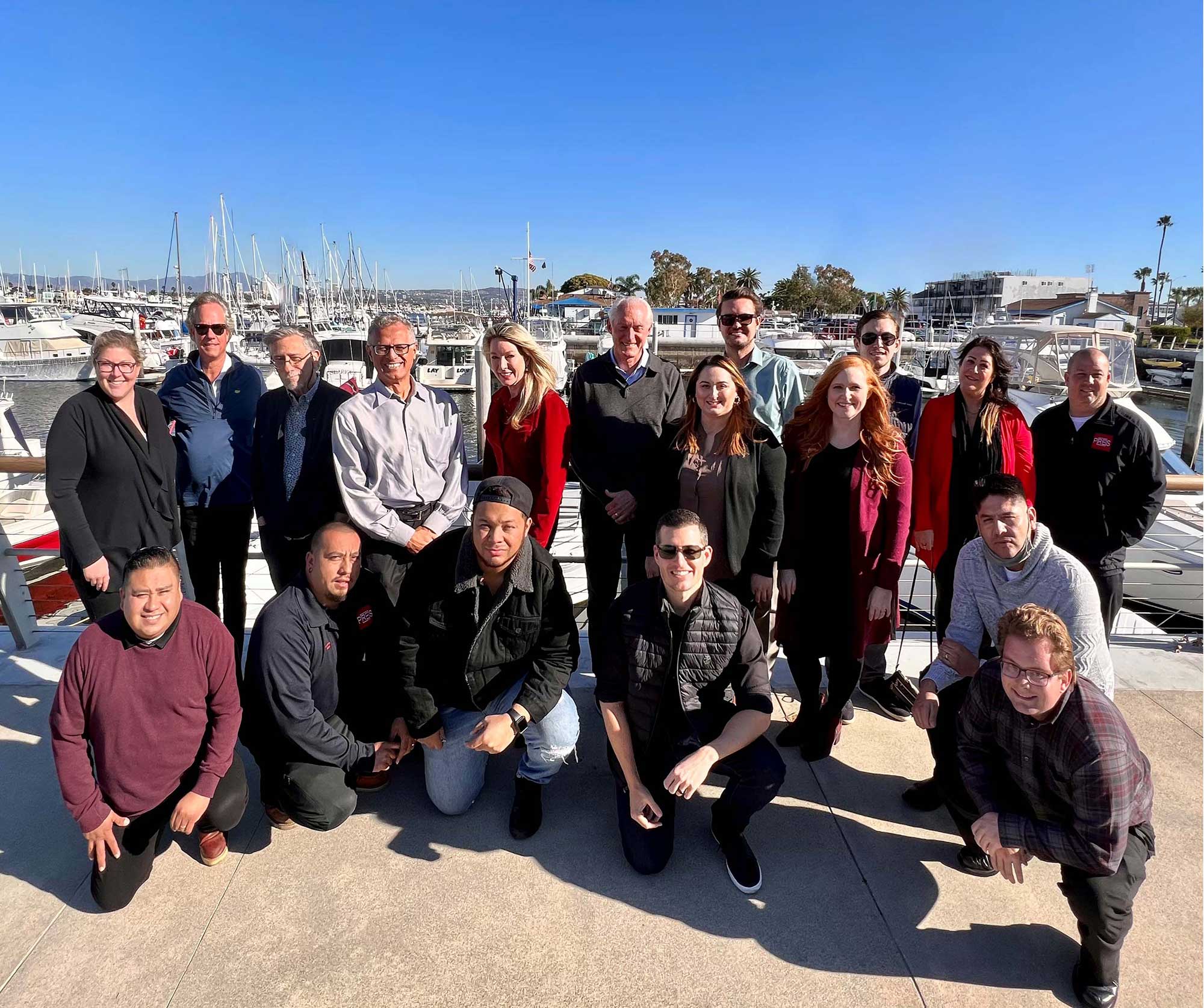 Our Team
Asset/Property Management
Mark Yu,

Property Manager

Marisa Flasco,

Property Manager

Kelly Wilson,

Assistant Manager

John Urday,

Controller

Mark Wellbrook,

Accountant



Acquisitions and Investments
David Nealey,

Capital Advisor

Thomas Hennessy,

Senior Analyst

Amy Santos,

Investor Relations
Brokerage and Leasing
Holly Forsythe,

Executive Vice President - Sales and Leasing

Marlene Gable,

Senior Associate - Sales and Leasing



Engineering and Operations
Chris Soares,

Director of Engineering/Construction Mgmt

Juan Barajas,

Lead Engineer

Oscar Morales,

Building Engineer

Julio Ponce,

Maintenance

Angel Labra,

Maintenance

Isai Martinez,

Maintenance